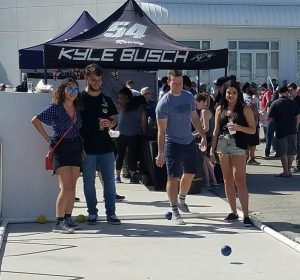 Corporate Team Building Events
Customer and Employee Appreciation Events
Charity, Non Profit, School & Team Fundraisers
Professional Association Events
Family, High School & College Reunions
Bachelor & Bachelorette Parties
Birthday & Anniversary Parties
Other types of events
Weddings
Golf Tournaments
Tailgate & Beach Parties
Youth Groups & School Programs
Wine, Beer & Food Festivals
Italian Festivals
Social Leagues for Youth, Working Adults & Seniors
Social Leagues for Country Clubs
Guest Activities on Cruise Ships
Country Club Member Appreciation Special Events
Parties on Yachts
Bocce Introduction for Disabled, Disadvantaged & Sick People, & Seniors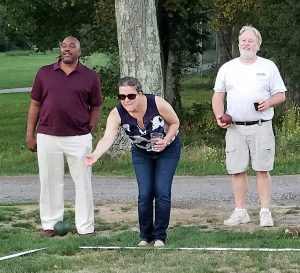 Bocce Tournament as the Main Event – Format, Prizes, Apparel
We really shine when we organize a bocce tournament for you that is the main event for either teambuilding, networking or raising funds for a charity.  Teams compete vs. each other within brackets and the top teams enter a "final four" playoffs.  We also provide awards:  medals with various colored neck ribbons, trophies and bocce balls (from basic quality bocce balls to professional Italian balls).  Unique prizes could also include Joe Bocce clothing and hats or imported Italian Bocce Shirts.  You can even task us with supplying you with different designs for team uniforms or a commemorative shirt for everyone.  Prizes, game balls and team uniforms can all be branded with company names and logos.  If this is for fundraising, we will help you with signage for sponsors, too.  Whatever your creative mind imagines, just ask and we will help you make this one of the most memorable parties you've thrown.
Food, Beverages, Other Activities and Entertainment
Do you want us to handle everything for the event?  We can include wine, craft beer or spirits tastings (tequila and whiskey is popular now), cooking classes, catering, Italian or other singers and cigar rolling.  Perhaps you desire a New England Lobster and Clam Bake, Traditional Italian Feast or Brazilian BBQ.  We can arrange for the furniture, flowers, decorations, generators, lighting and Audio/Visual needs as well.  We'll gladly incorporate your personal ideas into the party.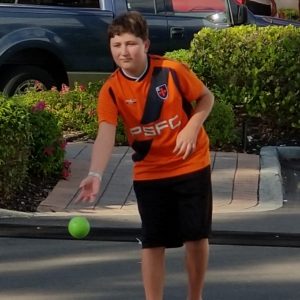 Bocce as Part of Your Larger Event
We can be part of your large event with one or two courts, introducing people to bocce and playing a target game like skeeball.  For example, if you are running a golf tournament, we could set up courts after the 18th green or near the club house, giving players a chance to try their hand at bocce while enjoying a drink and a cigar.  The same is true if you wanted to us to be part of the entertainment at a wine and food festival or an Italian festival.