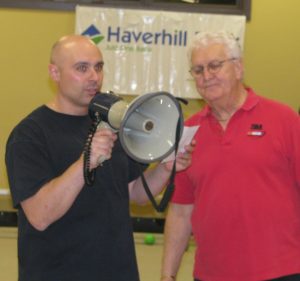 Some say I don't need the bullhorn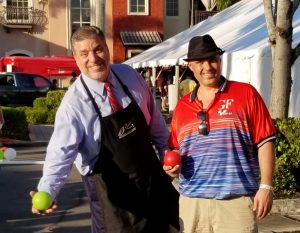 I am grateful you are taking the time to visit my site.  I'm Joe "Bocce" Quartarone, the founder of Joe Bocce International Events and feel you'll find our services as exciting as the others who have worked with us.  The team is ready to help make your special event a huge success.
Planning and managing events, coaching, as well as fundraising, all come naturally to me.  Previously, I was a restaurant and catering company owner and a lacrosse coach for a youth program that we grew from 30 player to 300 in 5 years.  That passion for coaching children transitioned into coaching High School and College teams, and for the last 7 years into coaching/training adults and youth in bocce.  That has taken me as far away as Argentina and Brazil.  Some of the female players won the bronze in Pan Am Games.  Others competed in US National Tournaments and I am super happy for one player who won gold in the 2019 US Nationals.
My background also includes several years of volunteer experience organizing bocce events for the Methuen Sons of Italy, and on my own.  As the co-director of 5 specific events at the non-profit private Italian club I belong to, we raised funds that netted $75,000.  On many occasions I helped run events for my dear friend, Mario Pagnoni, from The Joy Of Bocce, who sadly died a fews ago.  If you want to order a book, let me know.
Over the past 12 years, I have directed small private bocce outings, charity / fundraising tournaments, corporate team-building functions, incentive travel events for salespeople, trade association events and regional, national and international competitions.  M major tourmanents, I managed the bocce committee for the 2019 US Bocce Nationals in Boston – 140 players on 103 teams, over 7 days in 7 separate tournaments.  Prior to that I led the team that planned and ran the 2016 Pan American Bocce Games and co-directed the 2015 US Nationals in Boston.  Refereeing international events in 2018 and 2019 brought me to St. Louis and Chicago where I was lucky enough to be on the courts for the Championship games.  The Italian Men's team beat Brazil in 2018 and in 2019 the Brazilian Ladies beat the Argentinas.  Competing in the US Qualifiers for the 2017 World Games took me to Chicago.  Lastly, it's been an honor to have represented the US Bocce Federation as the Head of Delegation at meetings in Brazil at the 2016 Pan Am Women's Championship and in Argentina at the 2019 World Championships.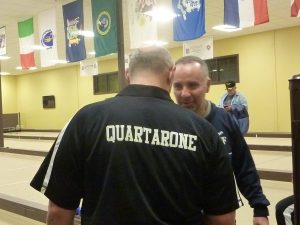 In Boston with Italian friend, Gianluca Formicone (9x World Champion).  It was awesome to congratulate him in person in Argentina when he won the 2019 World Championship.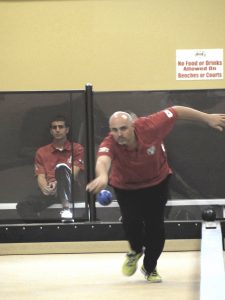 Playing in 2015 USA Nationals
My Background
Special Olympics Bocce Coach and Fundraiser Organizer
St. Jude Bocce Fundraiser Organizer
Founder of BocceCLEAN (club execs' response to COVID-19)
US Bocce Federation, VP East Coast
Internationally Sanctioned Referee – notable events:  2018 International Men's Bocce Tournament in St. Louis and 2019 Pam Am Women's Championship in Chicago
Long Time & Proud Volunteer Member of Methuen Sons of Italy, Bocce Committee
Head of Delegation and Team USA Coach – 2019 World Championships in Argentina
Head of Delegation and Team USA Coach – 2016 Pan Am Women's Championship in Brazil
Competitor in Pan American Games & US National Championships (Silver and Bronze Medalist)
Competitor in USA Qualifier Tournament for 2017 World Games
Co-Tournament Director:

2016 Pan American Bocce Games
2015 and 2019 US National Championship
2014, 2015 & 2016 Massachusetts Bocce Open

Organizer – 2015 Bocce Expo with Gianluca Formicone, 9 Time World Champion
Former College Lacrosse Coach and Player – Merrimack College
Former Restaurateur and Caterer
Please call or email me today to discuss how we can infuse lots of bocce fun into your next corporate, social or charity event.
Joe Quartarone, US Bocce Federation
978-204-3663     EMAIL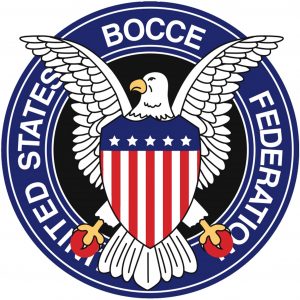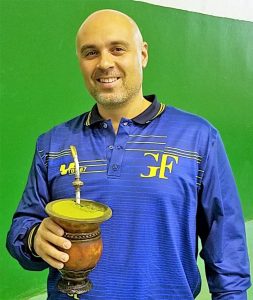 2016 in Brazil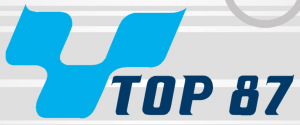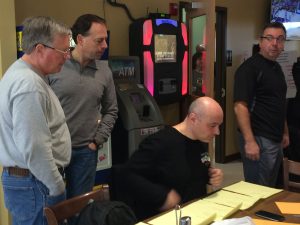 Very Organized…keeping the games in each bracket on schedule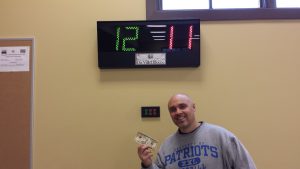 I won $10 – not enough to retire yet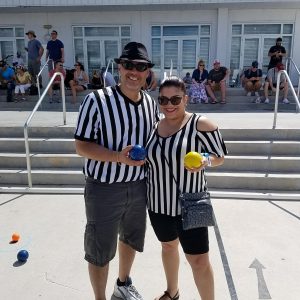 2018 Wake Fest – Wynwood in Miami, Florida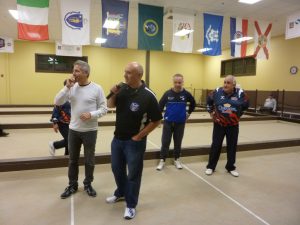 Flags represent several states and countries of those who play with us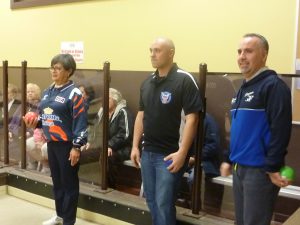 2015 – Playing with friends, Teresa Passaglia (USA Female Champion) and Gianluca Formicone (9x WORLD Champion)