Make your HOLIDAY PARTY reservation NOW
Call  (978) 204-3663  or  EMAIL
Ask about our 2022/2023 Holiday Season Special when booked by November 30, 2022.
---
---
We understand the dilemma you face at this time each year.
You and people in your position are evaluating holiday event ideas to show your appreciation to your employees and clients.  You absolutely don't want them to be bored, so you're looking for something completely different.  Something that shows you're a company that knows how to throw the hippest of holiday parties in the city.  Well, treat them to a Joe Bocce Party.
You may or may not have played the game before.  No worries if you don't even know what it is.  We can help you organize a legendary Holiday Bocce Party and you'll be known as the Star Event Planner at your company.
YOUR JOB:
Human Resources Professional
Operations Manager
Executive
Sales Director, Manager or VP
(Employees – if you love playing or think it's a cool idea, please send to your boss)
Bocce is gaining enormous popularity across the country!  It has wide appeal among all age groups and all skill levels. 
Women & Men
Weekend-Warrior Athletes & Couch-Potatoes
Old-timers & Millennials (even young children)
People with Disabilities
Sales People are obviously competitive, so they definitely get fired up for game-focused events.
Newbies, don't be nervous; it's a simple game to learn during our 5-minute pre-tournament training.
Bocce is the Perfect Party Idea for employees of:
Companies:  Legal, Medical, Financial, Technology/Software, Manufacturing
Associations and Non Gov. Organizations
Chambers of Commerce
Government Offices
Charities
If you have already made your holiday plans, congratulations, but please do me a favor by sharing this page with friends at different organizations who may not have.  Also, we appreciate your consideration for us to produce your team-building, community engagement or charity fundraising event later in 2020.  Thank you.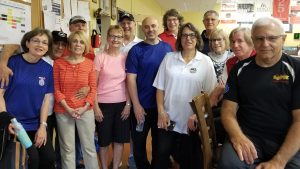 BOCCE:
 Totally unique, new trend.  Do you know many others who have held bocce parties?
More Casual, Active and Exciting than formal sit-down restaurant dinners.
Invigorating, team building event will spice things up as you launch into the new year.
Social Activity everyone can do together, including those with disabilities.
You don't need to be an old Italian man who speaks broken English. (They are really good though, so grab one for your team if you can. 😃)
Your people worked their butts off for you all year.
Now let them relax, laugh and PLAY BOCCE… an ancient game, with our modern vibe.
Call  (978) 204-3663  or  EMAIL
---
DETAILS:  
Let's discuss how we'll CUSTOMIZE your corporate event
Number of Attendees
Venue (we are 100% mobile)
Menu Selection
Music and Other Entertainment

DJ, Singer, Cigar Rolling, Corn Hole, Special Lighting, Furniture and Linens, Wine Tasting

Prize Options for Tournament Winners

Medals, Trophies, Italian Bocce Balls

Event Options:

Tournament Format VS. a few Courts for Leisure Play
Bocce Balls that match your Organization's Colors
Engraved Balls with Event Name/Date
Glow Balls in a dim/dark setting
Customized Apparel and Items (T-Shirts, Italian Bocce Shirts, Hats, Koozies, etc.)
Special Guest Players available.  These are my friends from across the world who are National and World Champions.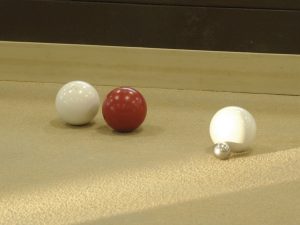 ---
VENUE OPTIONS: 
We are 100% mobile, so you can PLAY BOCCE anywhere.  We bring portable courts and lots of bocce balls to you.
Hotel – Ballroom, Lawn or Beach
Special Event Space or Country Club
Local Park, Ball Field or Beach
Craft Brewery
Rooftop or Parking Lot
Marlins Park, American Airlines Arena, Hard Rock Stadium
Your Business Location
Furniture and Linens Rental Available
 FOOD & DRINK:
We'll help arrange your catering with restaurateurs we know
How about rolling in your favorite Food Truck for fish tacos, gourmet mac 'n cheese and donuts 🌮 🍩
Anthony's Coal Fired Pizza, Wings and Salad  🍕 🍗 🥗
Wine or Local Craft Beer Tasting 🍺 🍷
Italian Cuisine with Caesar Salad, Bruschetta, Ravioli, Meatballs, Sausage, Cannoli, Gelato and Cappuccino 🍝 🍨 ☕
Brazilian BBQ from Fogo de Chao 🥩
Argentine Cuisine and Empanadas from Patagonia Nuhuen 🥟
American BBQ with Hamburgers, Hot Dogs, Sausage Subs, Grilled Chicken, Potato Salad, Strawberry Shortcake, Apple Pie with Ice Cream 🍔 🌭 🍰 🥧 🍦
Upscale Culinary Creations from chefs such as Lorena Garcia and Doreen Colondres 
Mobile Bar Service, Prosecco and Beer Trucks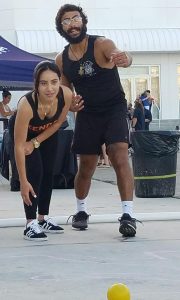 Let's Roll.  Let's Play Bocce.  
Call  (978) 204-3663  or  EMAIL
This winter I will personally organize and manage your special event along side the team of seasoned referees.  It's my honor to serve you by introducing your people to the incredibly social sport of Bocce and as your event planner, it's my goal for them to leave with wonderful memories of your party.  Count on us to show everyone tips and tricks and of course I'll tell a few stories of my travels through the USA and South America as a  player, coach, referee, delegate and tournament producer.
Currently (11/19/20), dates are available in November – February to book your event.  However, I'll be in Chicago for 7 days at the beginning of December to referee the Pan American Women's Championship.  New training sessions, leagues, speaking engagements and tournaments are starting to fill the winter schedule, so call me soon.
– Joe Bocce (US Bocce Federation, East Coast VP)
My short bio:
Competitive National and International Player (Silver Medal in Nationals)
Team USA Coach and Delegate for meetings with bocce leaders of other countries
Internationally Certified Referee
Tournament Organizer (Pan Am Games, US Nationals, numerous local, regional, corporate and charity events)
Former Catering & Restaurant Owner