Want to book your small and safe
Company Teambuilding Party
or Association / Non-Profit Fundraiser?
Call  (978) 204-3663  or  EMAIL
---
If you're like most people tasked with organizing a corporate, social or fundraising event, I bet you've been searching for that one-of-a-kind experience that your guests will rave about.  You know…that legendary party that people will tell stories about for years…something different!
Of course you are creative, or you would not be planning events, but wouldn't you agree it is sometimes challenging for even the best of us to come up with new ideas?  Or sometimes your clients or employees are stuck on older trends.
"Yes! Tell me more,"  (I presume you'll say that )
Well, how about a JOE BOCCE PARTY?
Joe Bocce Events can be your fun and unique solution to replace the same-old activities that your guests are bored with.  Together we'll create an exciting bocce event, really a social experience…that they'll tell their friends about and will definitely crave to play again in the future.   Who knows, maybe this will turn into an annual event and you're elevated to Event Super Hero status!
EMAIL   *   (978) 204-3663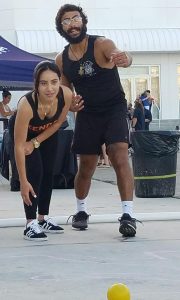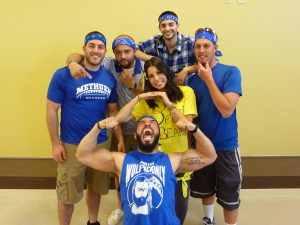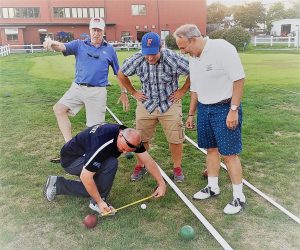 It's a tough job being a bocce referee, but Brad's paying the bill so I better make the right call.
Isn't Bocce for old guys?  … NOPE!  
It's no longer just a game old Italian guys play while they sip homemade wine, smoke cigars and bust each others' chops.  That still happens, but now Bocce is absolutely on fire.    It's a hip and classic game at the same time, played:
in bars by millennials
on basketball courts in school gyms
in retirement communities 
at private social clubs 
as one of the most popular sports in the Special Olympics
Bocce is a highly interactive and all-inclusive activity, so it's perfect for events because young, old and even people with disabilities can play side by side.  The best part of hosting a bocce outing is that unlike golf, your guests don't need to have any experience or own expensive equipment.  After a 5-minute demonstration, their competitive juices will be flowing while rolling balls…laughing and making memories, and that's your ultimate goal.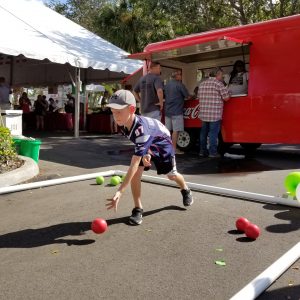 Where To Play:
Where's your next fun-filled event going to be?
We will seamlessly produce your event in South Florida since we are based in Naples (SWFL) & Miami (South Florida).
Likewise, we are 100% mobile so we'll also successfully manage events for you anywhere
in Florida
in North America
or even overseas
This is possible by using our portable courts or tapping into my worldwide network of bocce friends.  Many of my friends are national champions of their countries…truly world class players.  If you plan international conferences, meetings and events for an organization, think about how to incorporate us into your next one so you can play on these professional courts throughout the USA, Canada, Europe, South America, Asia, Africa and Oceania, and maybe even alongside these top athletes.  We love the challenge of designing and producing a completely custom event.
How do you feel about your bocce party taking place on the lawn in a park, on a pro or college sports field, or at your hotel, home or business? 
They are all fine.  Don't rule out a parking lot or the beach.
Do you have a party to plan on a pool deck, roof top or yacht?
No problem.  We'll build temporary courts to accommodate you.  Be creative.  Is there a certain venue you have been dying to match with the right occasion?  Let's talk about it.
Pick your date, call us to work out the details, then we'll bring everything to you.
Yup, it's that simple.
EMAIL   *   (978) 204-3663
Increase Your Food & Beverage Sales With Bocce Events and Leagues
Are you a revenue director or sales person at a hotel, bar, restaurant or country club who's looking to increase sales on a slow night?  Let's set up a bocce league at your place or hold special events on a regular basis.
Bocce Court Construction
Do you want to build permanent OR temporary courts at your club, resort or your home?  We can help with that, too.
Bocce For Disabled People, Kids, Seniors and Those In Need
Do you work with disabled people, disadvantaged kids, sick people or seniors?  It would be our pleasure to help brighten their day and put smiles on their faces by introducing them to bocce.  We can come to your facility.  If you want to raise money, let's put together a plan to do a tournament that sponsors and players can donate to.
Equipment, Balls, Apparel and Prizes
We offer an extensive catalog of Italian Bocce Balls, Shirts and Shoes.  Examples of the balls are show in the pictures, as well as at the bottom of the page with the clothing.  We also have Measuring Devices from various manufacturers from around the world.
When we are running your event, we can provide customized Tshirts, Polo Shirts, hats, koozies, etc.  Also, engraved balls or balls with specific company/charity colors can be ordered.   Don't forget bocce medals and trophies for your #1 through #4 finalist.  You don't want them going away empty handed.
EMAIL   *   (978) 204-3663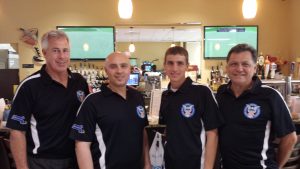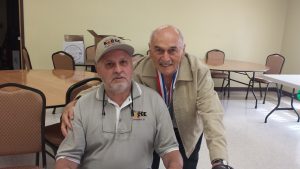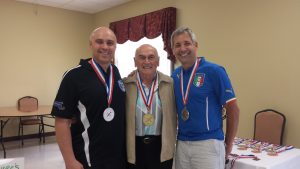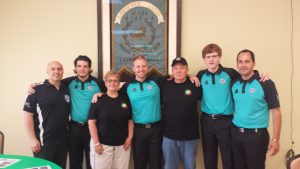 Clothing, Shoes, Bocce Balls